Product Description
Ferrous Sulfate/green copperas/ ferrisulphas drying machine,copper carbonate dryer equipment spin flash dryer for inorganic salt,spin flash dryer machine,Spin Flash Drying Equipment,Spin flash dryer of sulphide,Spin Flash Dryer
DESCRIPTION
Our company manufactures and supplies a superior quality range of Spin Flash Dryers, which are widely used to efficient as well as effective methods of surface removal. These products are ideal to dry continuously the cohesive as well as non-cohesive pastes, liquids of high viscosity and filter cakes. Our products are featured with double shaft screw and are available at client friendly prices in the domestic market.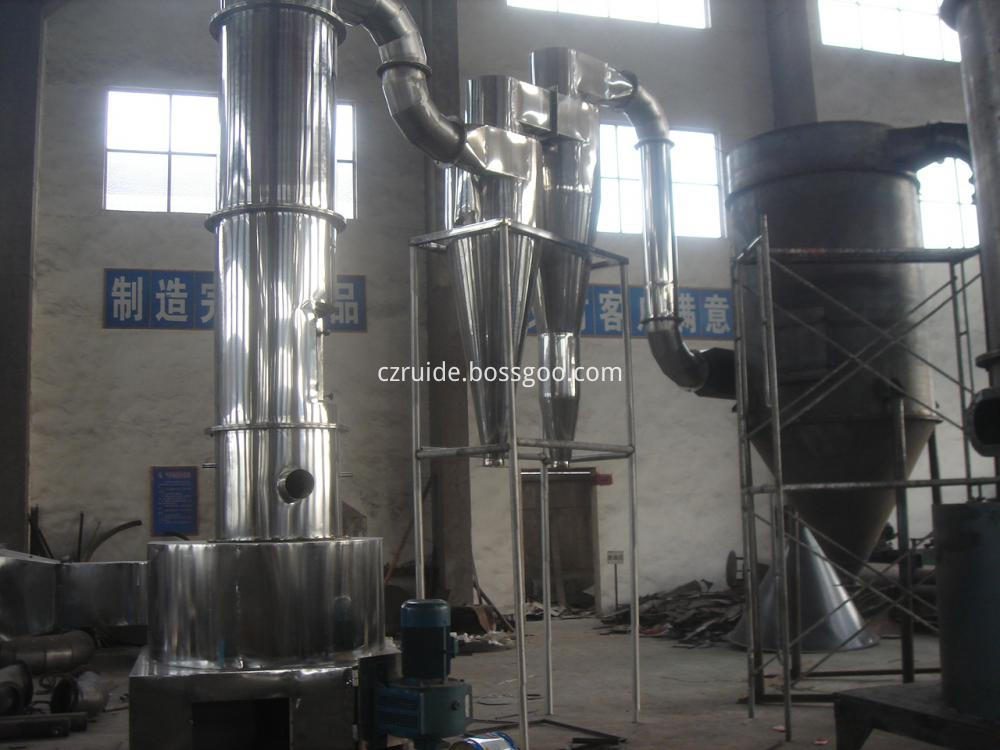 These products are available in a variety of specifications in the market. Our spin flash dryers are manufactured with advanced technology and are heated with the help of air. Depending on the applications, these dryers have direct or indirect air heating and are designed with high precision. Our dryers dry in both actions including fluidized condition as well as size reduction.
Spin Flash Dryers is used for drying technology of high-viscosity products, pastes and filter cakes widely acclaimed by customers In a variety of industries all over world, if the wet cake is a paste or sludge, swirl flash dryer is the most suited for drying application. The dryer is fitted with a mechanical agitator which helps to disperse the wet cake without any need for back mixing of the dry powder. this process provides a faster and more energy-efficient alternative to spray drying. With quite a few spin flash dryer installations in the world, XINYU combines experience and cutting-edge technology into added-value solutions for our customers.
CHARACTERISTICS
The rotor at the conical base of the drying chamber fluidizes product particles in a drying-efficient hot air flow pattern in which any wet lumps are rapidly disintegrated. Using the heat from the airstream, the material dries as it is conveyed. Product is separated using cyclones, and/or bag filters. Typically, cyclones are followed by scrubbers or bag filters for final cleaning of the exhaust gases to meet current emission requirements.
Airborne, fine particles pass through a classifier at the top of the drying chamber, while larger particles remain in the air flow for further drying and powdering.
ADVANTAGES
• High drying efficiency and low energy costs
• Direct drying with no initial diluting
• Continuous processing with short drying time
• Low operator overheads and minimum maintenance costs
APPLICATION
Flash dryers have been used to dry products in many industries including food, chemical, mineral and polymer. A broad range of feed materials including powders, cakes, granules, flakes, pastes, gels, and slurries can be processed. For slurries, pastes, or sticky materials, back mixing of the wet feed with a portion of dry product to produce a suitable conditioned material is required. This technology can also be used for cooling applications.
• Agrochemicals
• Ceramics
• Food and feed products
• Inorganic chemicals
• Organic chemicals
• Pharmaceuticals
• Pigments and dyestuffs
TECHNICAL PARAMETERS
| | | | | | | | | |
| --- | --- | --- | --- | --- | --- | --- | --- | --- |
| Model | XSG-2 | XSG-4 | XSG-6 | XSG-8 | XSG-10 | XSG-12 | XSG-14 | XSG-16 |
| Barrel diameter,mm | 200 | 400 | 600 | 800 | 1000 | 1200 | 1400 | 1600 |
| Main machine dimensions,mm | 250*2800 | 500*3500 | 700*4200 | 900*4600 | 1100*5000 | 1300*5200 | 1500*5400 | 1700*6000 |
| Air amount,m3/hr | 300-800 | 1250-2500 | 2500-5000 | 3000-8000 | 5000-12500 | 10000-20000 | 14000-27000 | 18700-36000 |
| Evaporated moisture,kg/h | 10-20 | 25-70 | 40-200 | 60-600 | 100-1000 | 150-1300 | 200-1600 | 250-2000 |
| Power of main machine,KW | 5-9 | 10-17.5 | 20-29 | 24-35 | 40-62 | 50-89 | 60-105 | 70-135 |